PLEASE NOTE – Our Winter Hours are Saturdays 10-4 in Egg Harbor.  The Sister Bay shop is closed for the season.  Call for an appointment of you are in Door County during the week and wish to visit the Egg Harbor shop.  920-737-7885
Welcome to beautiful Door County Wisconsin.    
Egg Harbor: Here is where you can find Dale and his handmade guitars, as well as a large selection of handmade and eco-friendly clothing.  The Egg Harbor shop is also the home to Dawn's Ancestry Cloth – Dresses, Belts and Jewelry made with meticulous and extensive stitching, beading and layering using organic linen , silk, vintage saris and repurposed leather.  Look for the big purple building in the center of town.  We are nestled between Greens N Grains and Spa Verde at 7821 HWY 42, Egg Harbor, WI 54209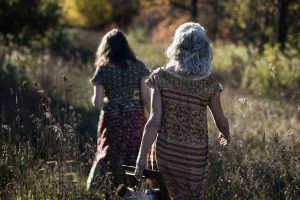 Sister Bay: take a walk behind Ecology Sports and find a secret courtyard for art lovers!  The three studios are inhabited by Door County artists, and here you will find a gallery of fine art and handmade clothing, as well as an outdoor courtyard classroom with open studio.   Located across from the Harbor in downtown Sister Bay at 10740 N Bay Shore Dr, Sister Bay, WI 54234
Artists and Artists in the making of all ages are welcome.  Travel sized art supplies are available for purchase.  Create in the courtyard or take them to go.
Your Teacher Dawn Patel, the owner of the Door County shop Brilliant Stranger has also been an art educator her entire life, teaching in Wisconsin Public Schools, the Milwaukee Art Museum, The Wustum Museum of Art (currently RAM), The Kenosha Historical Museum, University of Wisconsin Milwaukee, The Washburn Historical Society, Makers Space in Sturgeon Bay and the Peninsula School of Art in Fish Creek.  Her teaching philosophy rests mainly on the belief that everyone has a gift, and a safe and open space to create can bring it out. All Art Activities at Brilliant Stranger are relaxed and allow great artistic freedom, but Dawn will be on the premises to get you started on your project and assist with any questions and issues that arise. She won't be hanging over your shoulder but she will help you when you feel you need help.                           
Choose from a variety of carefully constructed art travel kits for all ages, and create on the road or in our Courtyard, with instruction and assistance as needed.