Welcome to beautiful Door County Wisconsin.    We can be found in Egg Habor and Sister Bay in 2017.
Egg Harbor: Here is where you can find Dale and his handmade guitars, as well as a large selection of handmade and eco-friendly clothing.  The Egg Harbor shop is also the home to Dawn's Ancestry Cloth – Dresses, Belts and Jewelry made with meticulous and extensive stitching, beading and layering using organic linen , silk, vintage saris and repurposed leather.  Look for the big purple building in the center of town.  We are nestled between Greens N Grains and Spa Verde at 7821 HWY 42, Egg Harbor, WI 54209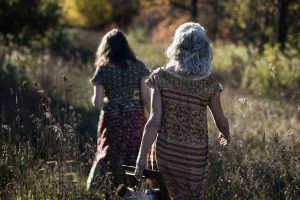 Sister Bay: take a walk behind Ecology Sports and find a secret courtyard for art lovers!  The three studios are inhabited by Door County artists, and here you will find a gallery of fine art and handmade clothing, as well as a classroom with workshops offered four days a week!   Located across from the Harbor in downtown Sister Bay at 10740 N Bay Shore Dr, Sister Bay, WI 54234
Classes and Activities at Brilliant Stranger – July Schedule
Saturday July 1 Rock Painting / Free Arts Movement    Sunday July 2 Block Printed T-shirts and Bags
Thursday July 6 Watercolor Painting                               Friday July 7 Acrylic Painting on Canvas
Saturday July 8 Painted Totes and Pouches                   Sunday July 9 Pocket Travel Sketchbooks
Thursday July 13 Refab your Jeans                                 Friday July 14 Watercolor Painting
Saturday July 15 Acrylic Painting on Canvas                 Sunday July 16 Block Printed T-shirts and Bags
Thursday July 20 Pocket Travel Sketchbooks                Friday July 21 Rock Painting / Free Arts Movement
Saturday July 22 Watercolor Painting                             Sunday July 23 Painted Totes and Pouches
Thursday July 27 Acrylic Painting on Canvas                Friday July 28 Block Printed T-shirts and Bags
Saturday July 29 Rock Painting / Free Arts Movement  Sunday July 30 Refab your Jeans
Artists and Artists in the making of all ages are welcome, and convenient travel sized kits can also be purchased for makers who want to create at home or at the beach.
Shop Hours are Thursday – Sunday 11-4 with classes from noon – 4 on those days.
Brilliant Stranger Studio is located at 10740 N. Bayshore Drive (Highway 42) in Sister Bay – follow the path behind Ecology Sports or park and enter through the Ecology Parking lot on Sunset Drive.
Call or text 920-366-0301 with questions or stop in during shop hours for a full schedule. Classes will also be posted on the Peninsula Pulse Events calendar and online at www.brilliantstranger.com
Your Teacher Dawn Patel, the owner of the Door County shop Brilliant Stranger has also been an art educator her entire life, teaching in Wisconsin Public Schools, the Milwaukee Art Museum, The Wustum Museum of Art (currently RAM), The Kenosha Historical Museum, University of Wisconsin Milwaukee, The Washburn Historical Society, Makers Space in Sturgeon Bay and the Peninsula School of Art in Fish Creek.  Her teaching philosophy rests mainly on the belief that everyone has a gift, and a safe and open space to create can bring it out. All Art Activities at Brilliant Stranger are relaxed and allow great artistic freedom, but Dawn will be on the premises to get you started on your project and assist with any questions and issues that arise. She won't be hanging over your shoulder but she will help you when you feel you need help.
Class Descriptions
Rock Painting for the Free Arts Movement Class Fee 15.00 includes 2 Extra Large Stones
Using Acrylic Paints and Mediums paint two big beach stones with images, patterns and designs. Get inspired
by mandalas, nature and your own imagination. Learn how to layer with thin coats for quick drying time and more
control over the details in this miniature form of painting.
Paint one stone to keep and one to leave in a public space as part of the Free Arts Movement, a growing
international community of artists. (Stones have been legally purchased and are not gathered from DC beaches.)
The Mystery Stones were a Free Arts Project that continued for two years and mysteriously left painted stones all over the world. Learn more at http://brilliantstranger.com/mystery-stones/
Block Printed T-shirts and Bags Class Fee 20-35.00 includes a Shirt or Bag
Transform a plain t-shirt, tank top, tote bag or messenger bag into an original work of art. Using carved linoleum, wood and rubber stamps and found objects, learn the basics of relief printing on fabric.
Watercolor Painting Class Fee 30.00 includes Watercolor kit, 2 Brushes, Cold and Hot Press Paper
Learn and practice some basic and fun experimental watercolor techniques. Beginners and Experienced watercolorists will enjoy a fun afternoon of painting in the courtyard with masking tapes and funds, salt and a variety of wet and dry techniques. Take home your watercolor kits to make more art all summer.
Acrylic Painting Class Fee 30 – 40.00 – includes paint, brushes, palette, travel cup and stretched canvas
Learn some of the basic skills of acrylic painting and experiment with your own ideas in our beautiful courtyard. Be inspired by your surroundings and work from your imagination. Learn some color mixing and layering techniques using various mediums to get various visual effects and express yourself.
Painted Totes and Pouches Class Fee 20-45.00 includes a canvas bag (small to extra large) of your choice
Using Acrylic paint and fabric medium, decorate your own pencil case, cosmetic bag, tote bag, messenger bag or giant beach bag.
Pocket Travel Sketchbooks Class Fee 20.00 includes mini kraft sketchbook and Generals Sketch Kit
Record the highlights of your travels in a mini pocket sketchbook that you decorate and personalize. You can draw, collage, write and do rubbings… just to name a few ways to record your memories. Design the cover using color pencils, markers, glue and magazine clippings, along with anything your bring along to add.
Refab your Jeans Class Fee 15.00 Bring your own jeans
Have your been eager to express your inner bohemian but didn't know how to start? Using fabric paints, fancy trims, embroidery floss and markers turn your jeans into a work of art.