The Prophet by Kahlil Gibran
And a woman spoke, saying Tell us of Pain.
And he said:
Your pain is the breaking of the shell that encloses your understanding.
Even as the stone of the fruit must break, that its heart may stand in the sun, so must you know pain.
And could you keep your heart in wonder at the daily miracles of your life, your pain would not seem less wondrous than your joy;
And you would accept the seasons of your heart, even as you have always accepted the seasons that pass over the fields.
And you would watch with serenity through the winters of your grief.
Much of your pain is self-chosen,
It is the bitter potion by which the physician within you heals your sick self.
Therefore trust the physician, and drink his remedy in silence and tranquility:
For his hand, though heavy and hard, is guided by the tender hand of the Unseeen'
And the cup he brings, though it burn your lips, has been fashioned of the clay which the Potter has moistened with His own sacred tears.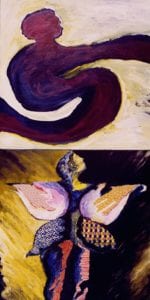 Mariposa 1994
Break (it) Down
I have been thinking about the tension of opposites. Engaging with the world in a time of turmoil has flung me into the tension of opposites. I am beginning to see how this experience, if not consciously broken down, leads to a breakdown. The last time I experienced it I gave into the grief for a very long time. This time I am stepping back from the world when needed, for self care and reflection. Sometimes I have to get to the point of spinning my wheels (and flailing my arms) before I realize it is time to step back. Painting has a great deal to do with stepping back, for my approach to creative work includes hours spent in meditation, gathering information, shifting and understanding. The painting is only the tangible record of it. Painting is the material world, the body of work. The rest is spirit.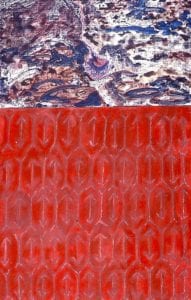 Journey 1995
Love for the world creates a desire to enter the world. That, and the realization that it is not possible to retreat from life. It follows you and pulls you back. The more "alone" you make yourself the more your senses adapt and hear the smallest heartbeat, the tiniest call. You feel the pulse of the world as acutely as if you were standing in the center of it. It has lead me to a very conscious decision to reconnect. One could say I picked a fine time. I know I am not the only one. This love can be so easily transformed into grief with the day to day experience of witnessing the world we love. My grief has turned into action, but that has thrown me into a world of activity that is also motivated by fear and anger. The fear, grief and anger are all so related they end up on the same team. My conditioned response is frustration, inarticulately communicated to friends and acquaintances… leading to more frustration, of course, and ultimately frustration with myself.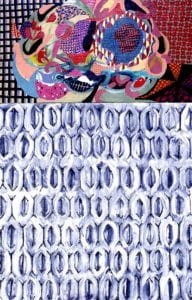 Untitled 1995
Jung's theory on the tension of opposites concludes if one stays in the discomfort of this tension a third thing arises. A "quantum leap" of thinking and being, ultimately of consciousness. It cannot be predicted because it is new, born out of opposites. Try to force it would be like trying to determine the personality and destiny of your unborn child. Sometimes we have a "feeling" about these things, sometimes even visions. But in these bodies, in this world, we still have to wait and see. How can I remain with my love for the world and my grief without breaking in half. It seems only with the qualities of joy and hope, which are not always my natural states. For me joy and hope have to be worked at, earned through understanding. It is not just an intellectual understanding, it is a whole body and spirit experience, my definition of faith.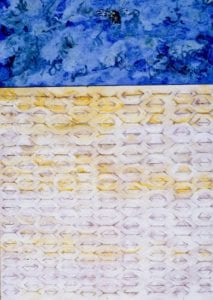 Faith 1995
I go into the world and am pulled by the tensions. I act and react, often in ways I regret, and then return to my inner world where I can quietly break it down. This is a conscious act, brought about by the same conditions an emotional breakdown would be. I am approaching it these days as "beating it [a breakdown] to the punch." Taken to the point of a breakdown, I am able to break down the opposites and see them more clearly. In this understanding I find myself in a more open and honest state, where trust, not in a determinist future, but in the vast universe of the present, can grow.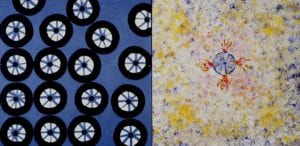 Juggernaut 1995
I found these older paintings of mine to be surprisingly effective for illustrating the tension of opposites that I am so aware of today. Something to revisit in my work this year…. Perhaps my paintings will see the third thing before my conscious mind can grasp it.