I have to start with this… if you want to make a stone scone, the first thing that has to happen is that the universe has to align to bring you a perfectly formed rock in the shape of a scone.  I guess you can go looking, but in my experience this is not always the way… So, perhaps this is more of a step by step tutorial to living life, rather than painting a Stone Scone.  Because none of this would have happened if not for….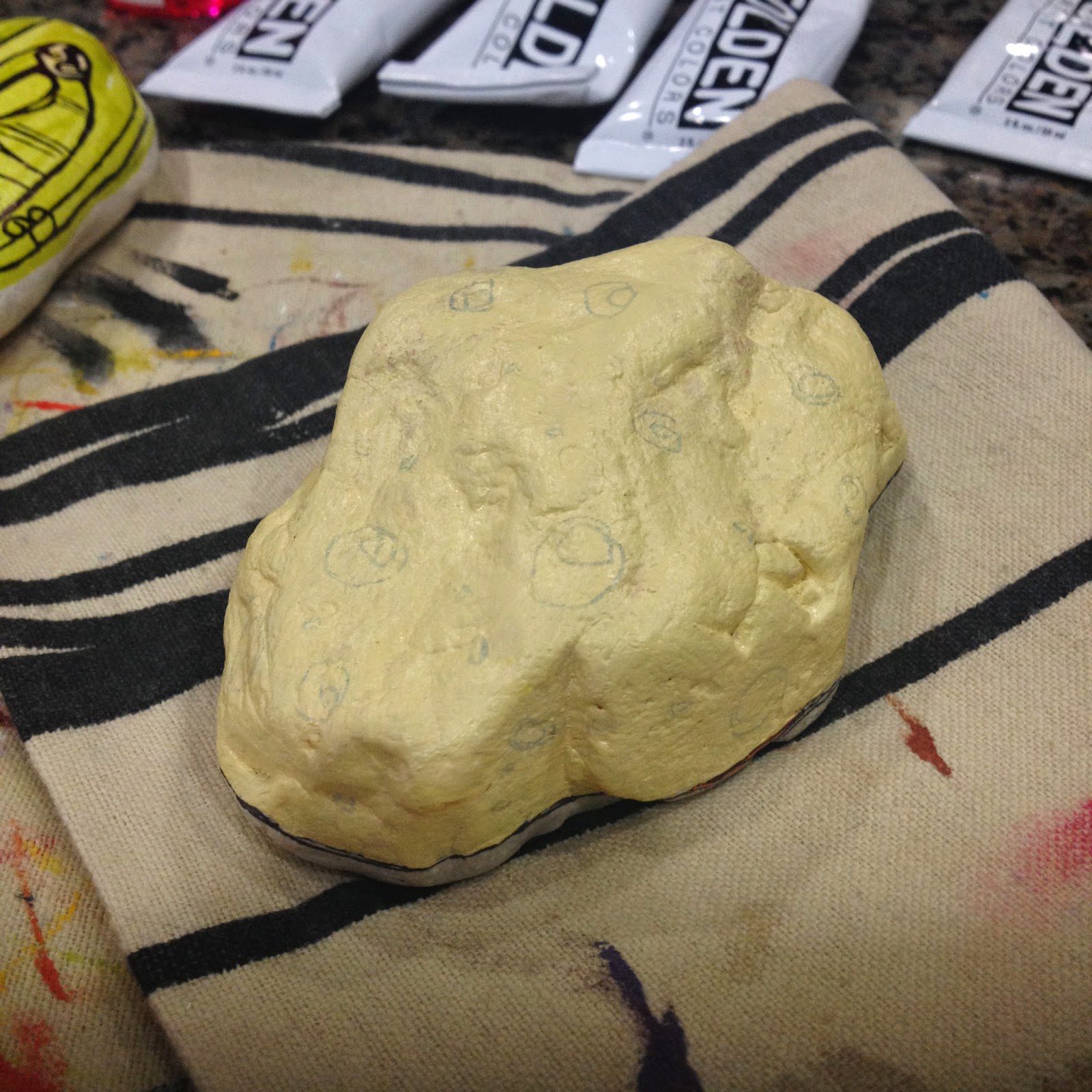 When my friend mentioned a fundraiser for the non-profit bakery, Blue Sky Bakery, I immediately thought a Stone Scone would be perfect.
A few weeks ago I was catching up with an old friend from Washburn who just so happened to be in Chicago when I just so happened to be in Chicago on the night of the US debut for the founder of Free Art Friday, My Dog Sighs, who just so happened to be in Chicago.  Ironically My Dog Sighs (from England) is one of my art heros, and I had plans to be in England this fall. Included in my plans, of course,  was a Free Art Friday Art scavenger hunt.  My plans changed and I ended up in Chicago instead, and so did My Dog Sighs and so did my friend George and that is how this all begins.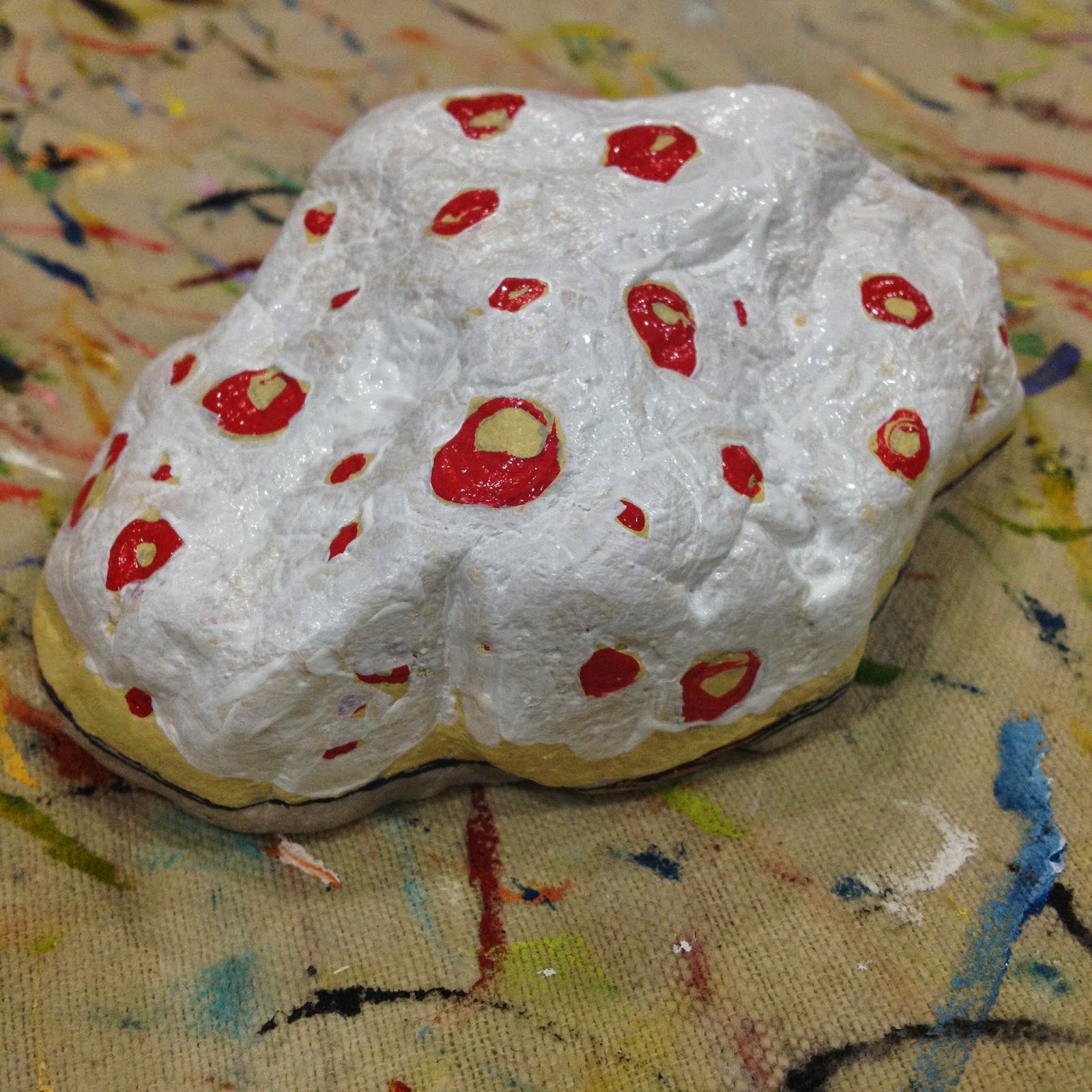 If at first you don't succeed….  I call this the Chicken Pox Scone.
So my friend George agrees to meet me for the art opening at Vertical Gallery in Ukraine Village for a fun night of whiskey, art, scavenger hunting, and catching up on many years.  I met his girlfriend Lisa, an amazing woman who runs a non-profit Bakery that does job training for at-risk youth in Chicago.  Check it out!
Later in the evening I discovered she was having a fundraiser so I jumped on the chance to donate.  It wasn't long before I, a lover of puns, thought of the Stone Scone.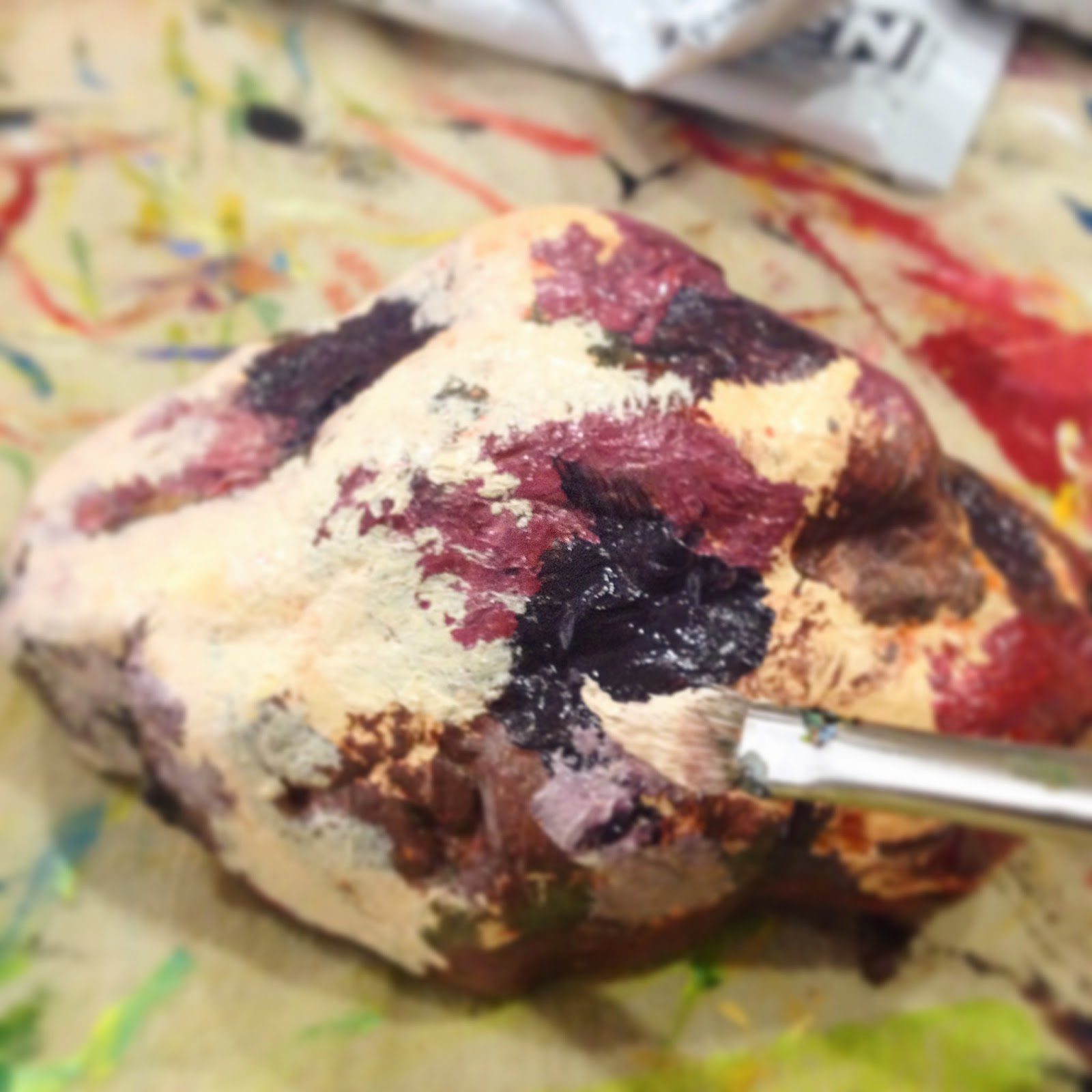 When at first you don't succeed, try try again.
I am now ditcing the more graphic, stylized approached for a layered painting.
Here's why I say this is more about living life than how to make a stone scone… I had ordered a box of perfectly smooth large beach stones for my painted rocks project.  In this box of otherwise round and oval smooth surfaced stones was one weird lumpy freak.  A Scone!  When I got home and saw this I knew we were meant to be.  This little guy would be the focus of my dedication and frustration for hours.  A relationship set in stone.
My first few attempts were ridiculous.  To spare you the details, lets just say this: the puke stone, the chicken pox stone and the alien stone all were covered with new layers of paint.  I ditched my idea to make this stone in my characteristic stylized technique of graphic shapes and miniature details and went back in the recesses of my mind to art school and the layered painting….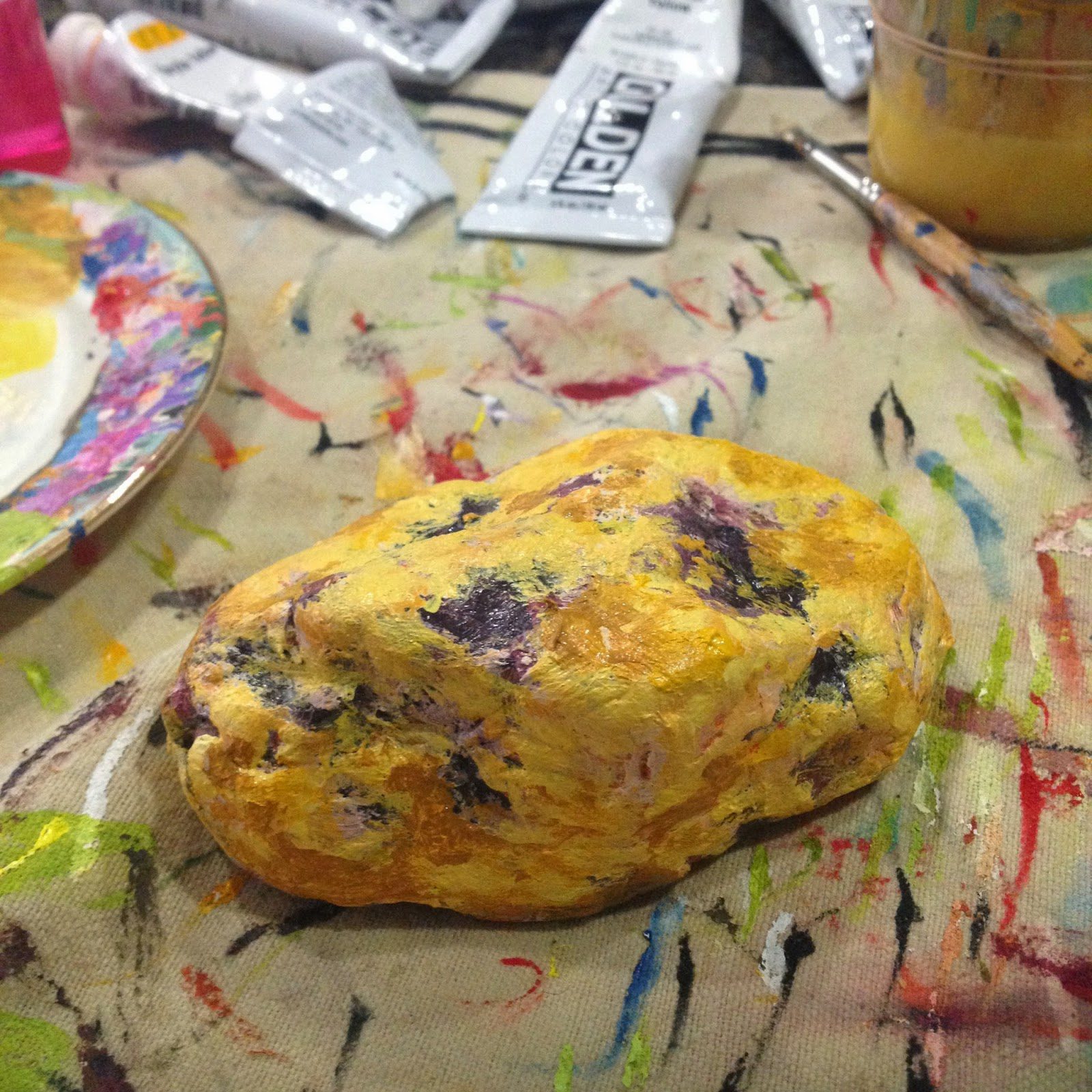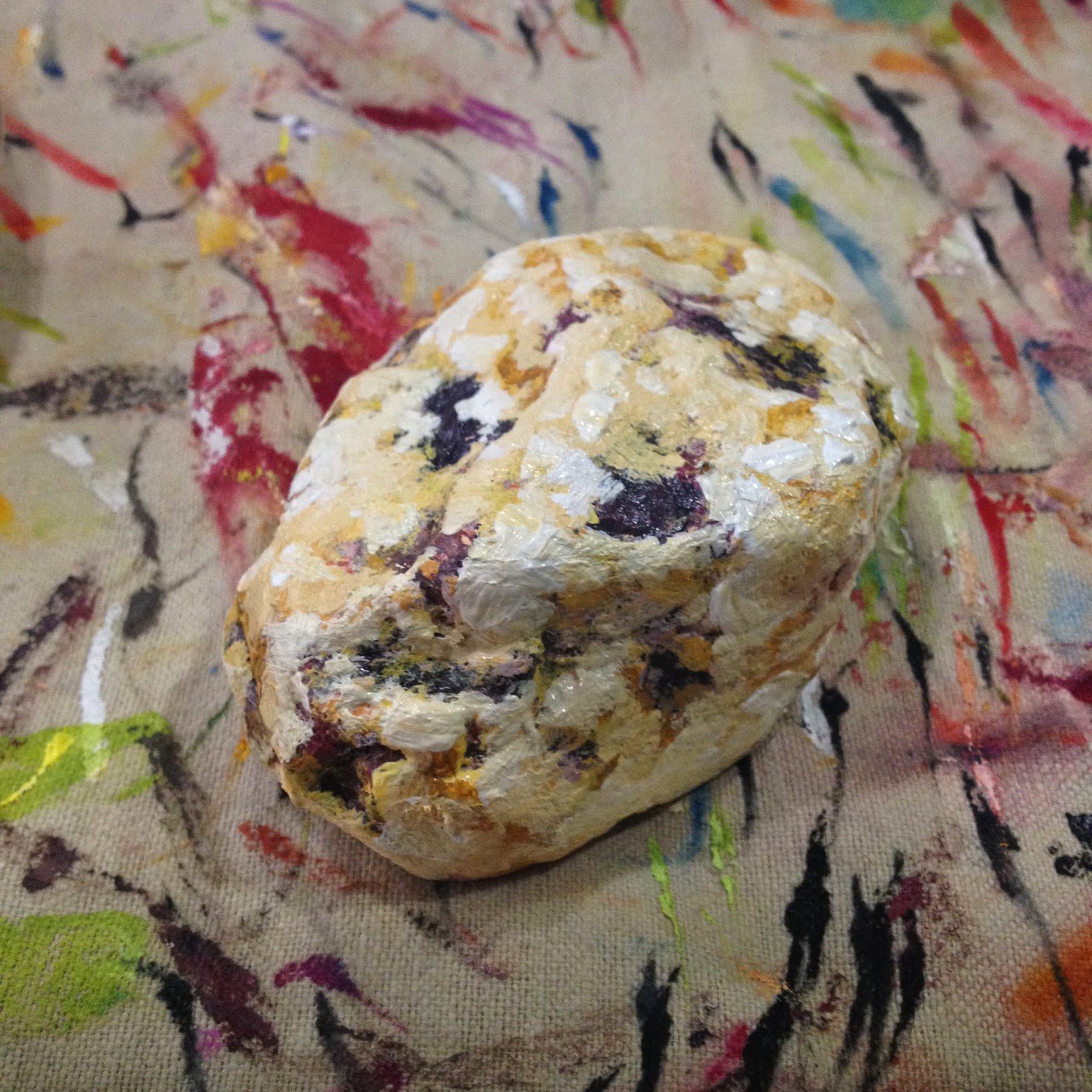 Layers of orangey-yellow and cream, working from dark to light, I created the  surface I was looking for,
a lightly toasted blueberry scone!
Here's a link to the event: http://chicagobeginnings.bpt.me  If you feel the need to bid on the stone scone, or drink great beer and eat delicious food and donate to a good cause, be there!
And if you see me walking down the street looking intently at the ground, I may be looking for another perfectly weird misfit stone, for my next project.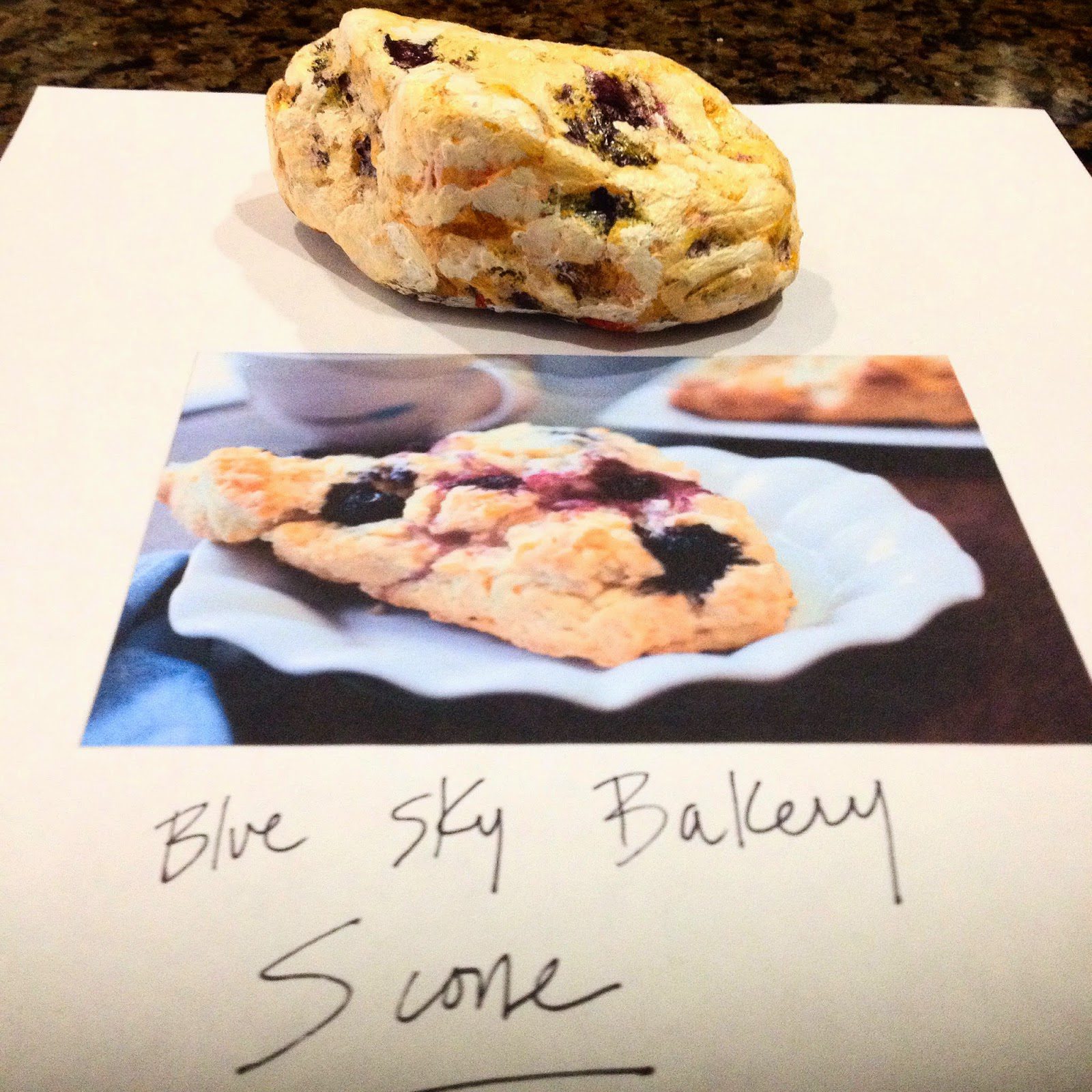 Close… Still needed a little color adjustment, and more blueberries.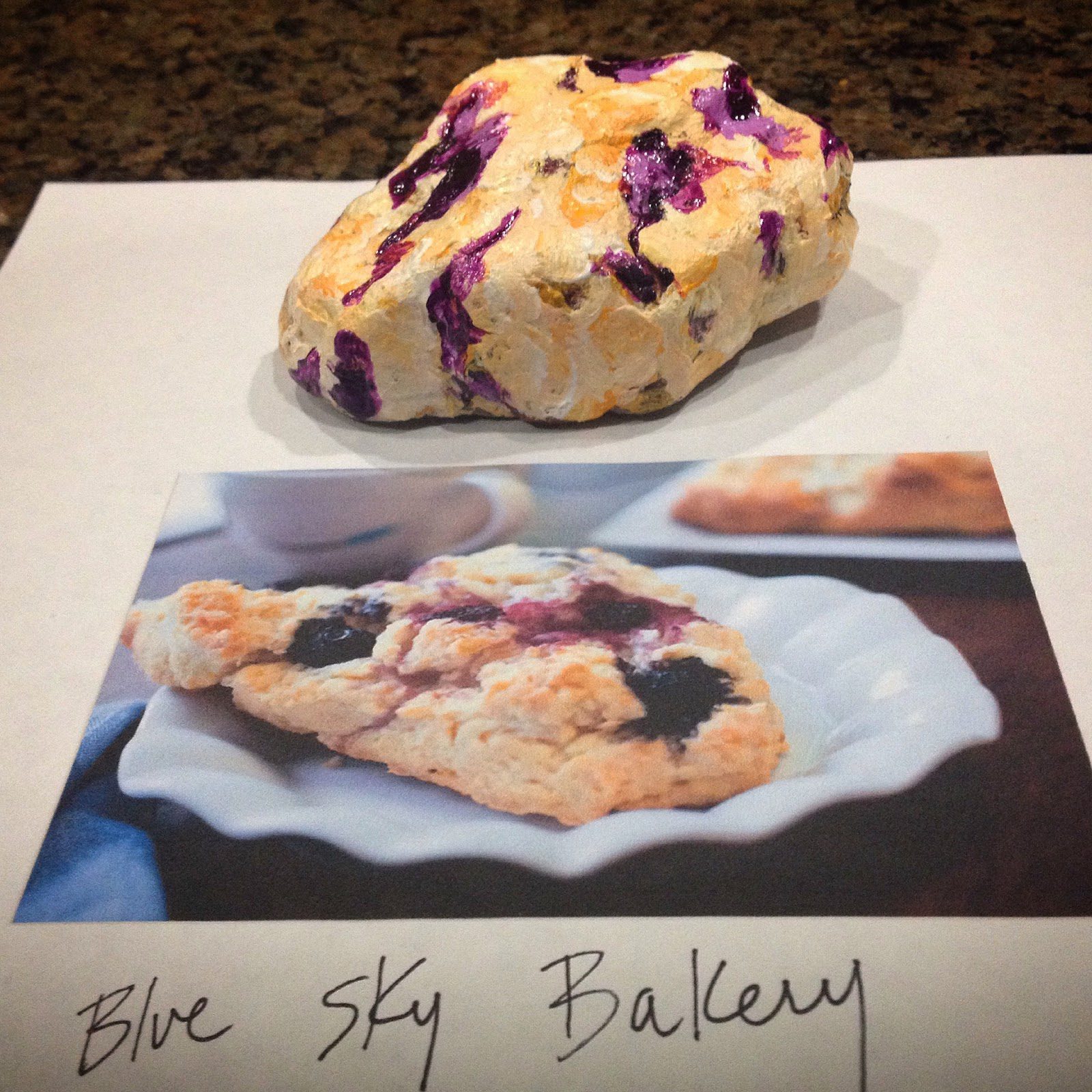 Finished!  After another layer of gloss medium with Violet to bring back some of the
Blueberries I had covered up, I am calling it done… no… Well Done!
Now to get to Blue Sky Bakery, all this has made me hungry for a real scone.
But more likely I'll be looking straight ahead, all around and up to the sky, because you can never predict from where the next inspiration will come.
For the curious: